Although there are about 1500 Ryburns in North America, my American cousins have had a much more difficult job of tracing their connections back to Scotland. Birth records in the early American Colonies were often lost, or not well kept, rendering lines of descent tenuous indeed.

Nevertheless, Diana Powell of Atherton, California, has succeeded in tracing her Ryburn ancestors back to Kintyre, Scotland. She has also built a vast web site, RamblingRoots.com, devoted to the pioneering families of Washington County, Virginia. This includes 200 Ryburns.


Diana has traced her ancestors to a Mathew Ryburn and Mary Galbreath of Killeonan Farm, near Campbeltown, who were married in 1747 and had four children. Two, Mathew (b. 1753) and Ann (b. 1756), sailed to America at ages 17 and 15, to join an uncle 'Gilbreth' in York County. Pennsylvania. In about 1780 they moved on to Washington Co., Virginia, where both married and had children. Mathew senior in Kintyre was remarried to a Margaret Dunlop in 1761, producing four more children.
Diana has also found evidence of an earlier Mathew Ryburn, who had unclaimed letters at Philadelphia post office in 1741. He could well be the Mathew born in Kintyre in 1716, the youngest child of Mathew and Elizabeth Ryburn, who were probably my great x 5 grand parents. He seems to have joined the nascent Scots-Irish settlement in the Cumberland Valley , Pennsylvania, as there was a Mathew Ryburn who was taxed on 200 acres in Hamilton Township in 1778 and 1779, then retired a short distance south to two acres in Antrim Township, in 1781, 1782 and 1786. As yet, no children are known.

Roger Ryburn of Oak Ridge, Tennessee, who I met in Sydney in 2003, claims a William Ryburn of Washington Co., Virginia, as his earliest certain ancestor. William, born ~1753, had a brother John living in Washington Co. There are no obvious matches amongst Scottish births, and they may have been born to a Patrick Ryburn living in York Co., Pennsylvania, in the 1750s. In 1778, a William and John Ryburn were in the York County militia during the Revolutionary War. 1780 tax records show them as single men in Huntington Township, York (now Adams) County. They moved to Virginia in about 1781. Patrick had a likely brother, David, in York Co., who died in 1762. From the Kintyre records they were probably the 'Patric' and David born in 1724 and 1733 to John Ryburn and Ann Langwill of Knockrioch Farm, just west of Campbeltown. Patric was an uncommon name amongst Kintyre Ryburns, but William had a son called Patrick. There are no other Scottish candidates, so that link seems fairly good. On 18 Oct, 1774, an Elizabeth Ryburn, a likely daughter of Patrick or David, married James Henderson at 'Widow Young's house', Chanceford, York Co. (Guinston [Muddy Creek] United Presbyterian Church records). A John Ryburn (prob. the Grenada merchant, see below) is also in an 1803 contract to purchase "Merryland" Farm in nearby Frederick Co, Maryland.
Eric Ryburn, a United Methodist pastor in Richmond, Texas, is descended from a James Ryburn, born in York Co., Pennsylvania in 1752. In 1777-80, during the Revolutionary War, he was listed in the Pennsylvania Artillery as a matross from Fawn Township, York Co. In 1780, James settled in Chartiers, Washington Co., Pennsylvania. He returned briefly to York Co, to marry Elizabeth Gordon in 1784, and died in Chartiers in 1826. James's father may have been the David Ryburn of York Co. mentioned above, as James' third son was a David. James' children Mathew, Elizabeth and David remained in Washington Co., PA, as did their descendants. However, by 1840 youngest son James R. had moved on to Harrison Co., Ohio, and by 1857 to McLean Co., Illinois, where many of his later descendants lived.
Poet Donald Ryburn, of Lakeland, Florida, says his earliest certain ancestor, recently supported by Mitochondrial DNA tests, was another William Ryburn, born ~1748 in Pittsylvania County, Virginia. This William was a 'Long Hunter' who married Mary ('Polly') Terry in 1773, and with Daniel Boone, blazed the 'Wilderness Road' in 1775. He was gifted 500 acres in Pittsylvania and Halifax Counties in 1775. In 1777 he took the Oath of Allegiance in Pittsylvania Co. He was with Daniel Boone at Blue Licks, Kentucky, in 1778, and back in Pittsylvania Co. for the 1782 census. He moved to Montgomery Co., Tennessee, with some of his family in about 1799.
William's father is said to have been a James Ryburn, perhaps the one named in 1767 as the father-in-law of a William Fleming in a court case, Augusta County, Virginia. James' wife was probably Elizabeth, and the daughter who married William Fleming a Margaret, born before 1755. Another probable sister of William's was Obedience ('Biddy') Ryburn, who was born ~1757, married Moses Parsley in 1775 and died in 1850 in Logan Co., West Virginia. Also, Anna Ryburn, born 16 Mar 1761 in Augusta Co. A likely son was James Ryburn of Pittsylvania Co., who in 1804 was contracted by Col. Berryman Green (George Washingtons Quartermaster at Valley Forge) to build "Greens Folly" in adjacent Halifax County. In 1810 James was sued by Green and jailed in Halifax Co. In 1814 he married Nancy Echols in Pittsylvania Co. He died there between 1817 and 1821.
The father of the above James Ryburn of Augusta Co. may have been a Joseph "Reyburn" who was born in Ayrshire in about 1682 and sailed to Virginia in 1698. I now think that most Ayrshire Reyburns were just spelling variants of Ryburn, so this Joseph was perhaps the earliest Ryburn in America. Joseph married Margaret Courtney and had a son James in about 1710. James married an Elizabeth some time between 1730 and 1732.

John Ryburn, master of the 'Prince Ferdinand of Glasgow', arrived in Charleston, South Carolina, during February, 1760, having departed Glasgow on 15 Dec, 1759 with merchant goods. There were at least two Ryburn sea-captains at this time, as a Ryburn sailed the 'Kingston' from Edinburgh on 22 Feb, 1759, bound for Antigua with herrings, and on 1 Mar, 1759 another Ryburn sailed the 'Rebecca' from Edinburgh for Maryland with merchant goods
In 1776 a James Ryburn, Philadelphia, was ship's carpenter on 'The Hancock', a one-cannon galley in the Pennsylvania State Navy, which was created by Benjamin Franklin for defending Philadelphia against the British. This James seems to have married Barbara Pear at St Pauls Church, Philadelphia, on 9 Aug., 1776. No children are known.
I also know of two Ryburns who fought with the British Navy during the Revolutionary War! Arthur, master of a merchant ship, and James, a mate, were honourably mentioned in 1779, during the seige of Savannah, Georgia. A James Ryburn was also on the crew of the brigantine 'Hannah', which was captured by an American privateer in 1779. Arthur was listed as master of the Privateer Sloop 'Mercury', a British 'victualler' that was sunk only 6 miles from New York. He was captain of the ship 'Hellenora' of Greenock in 1780. In October 1782 Arthur captained the 'Bellona', bound from Greenock to Tortula in the British Virgin Islands, and in April 1784 he was captain of the brig 'Virginia' of Glasgow, bound for the Rappahannock River, Virginia, from Leith in Scotland. Athur was almost certainly born in Kintyre in 1743, to David Ryburn and Janet Galbreath. He died at Brookes Bank, a tidewater plantation in Virginia, on 5 Oct, 1784.

A John Ryburn, attorney at law with Glasgow merchant connections, was living in Fredricksburg, Virginia, from 1790 to 1797, but seems to have moved on to the Caribbean by 1798. Thomas Ryburn, probably John's brother, was a retail merchant in Fredricksburgh in 1791. John Ryburn of the town of Saint George, Grenada, and Thomas Ryburn, Kingston, Jamaica, were co-owners of several ships trading coffee, sugar and Madeira wine. Born to David Ryburn, Campbeltown merchant, and Jean Anderson, of Glasgow, in 1766 and 1767, they attended Glasgow University starting in 1779 and 1782. In 1798 Thomas fathered an "African" daughter called Margaret Ryburn, but he died in Kingston in 1799. The British Colonial Slave Registers reveal that the company called Guthrie Ryburn owned many slaves in Grenada. John was later given £7878 in compensation for absentee ownership of 410 slaves on two sugar estates in Jamaica. In 1813 a ship called the "Betsey", owned by Guthrie and Ryburn of Grenada, was captured by the Spanish privateer "Conquistador" and sold in Caracas on a charge of smuggling. Subsequent diplomatic attempts to obtain recompense came to nothing. In 1817 a Grenada buiness partner of John's tried to sell arms to the Spanish Government in South America. A Privy Council court case ensued in London. By 1816 John had retired to Glasgow, a wealthy member of the Glasgow House of Merchants. By 1832 he imported some cactus plants from Grenada for the Botanic Gardens in Glasgow. In 1832, his Grenada sugar plantations, "Union" and "Marli", were sold for £16,553. John retired from merchant activities in 1834. In 1841 he was aged 75, living with business partner Robert McCunn and three servants, at Dunoon and Kilmun (Holy Loch). He died on 30 Nov 1844.
Several relatives of mine settled in North Carolina. On 4 Aug, 1826, Andrew, Margaret and John Ryburn were early steamboat passengers enroute from Quebec to Montreal, Canada. However, Andrew (b. 1796) was recorded as having arrived in Lincoln County, North Carolina in Sept. 1824. He was a son of Edward Ryburn of Kilwhipnach Farm, Kintyre, who married Margaret Ryburn (b. 1788) in Campbeltown in 1823. She was a sister of my g.g. grandfather, 'James the Baker', and John (b. 1802) their youngest brother. Her first child Isabella was born in Kintyre on 9 Sep 1824. On Aug 24, 1826, Andrew and Margaret baptized their second daughter Margaret at Niagara, Ontario (near Niagara Falls). The 1840 census has Andrew living at Lower Regiment, Lincoln Co., with his wife, 5 children and 8 slaves. In 1850 he was an 'overseer' in Gaston County with Margaret (56), Isabella (20), Margaret (19), William (17), and 20 slaves. In 1860 he was down to 15 slaves. John, a 'ditcher' by trade, was naturalised in 1838, and in 1850 was single in Cumberland Co. The Ryburn Memorial Presbyterian Church in Shelby, NC, is probably named after Andrew's grandchild, Robert Lee Ryburn, a prominent lawyer.
Some Ryburns overcame considerable hardship. In 1830 a Mathew Ryburn was in Fayetteville, Cumberland Co., North Carolina, with a wife + 6 children. He was younger brother (b 1798) to the above Margaret Ryburn, and in 1820 had married Elizabeth MacArthur on the Isle of Islay, Scotland. They did not remain in NC, but moved on to South Carolina, where Mathew died of fever in the Charleston "Poor House" (Orphan House) in 1834. Five of his children were then admitted there. Catherine (b 1822) was rescued by her mother several months later and she married a Capt. R. N. Bullen in 1844. As a widow she became Matron of the Orphan House circa 1878. She died there in 1886. Catherine's mother, Elizabeth, died in 1857. Eldest son William (b 1824) trained as a cabinet maker and had moved to Bridgeport, CT, by 1846. John (b 1826) encounterd trouble in the orphanage and was later sent to a naval school. He also seems to have settled in Bridgeport, and by the 1930 US Census there were many Ryburn descendents there. In 1850 Mary Anne (b 1828) became an assistant teacher at the orphanage. The youngest, Peter M. Ryburn (b 1829) was well educated by the orphanage and became a Methodist minister in Georgia with a wife and daughter.
The earliest Ryburns to settle in Illinois were pioneers who crossed the Ohio River by wagon train from Kentucky and Tennessee in 1820 -1840. Most settled in Williamson Co. In 1833, William Terry Ryburn, a son of William and "Polly" Ryburn, founded the now vanished town of Fredonia (south of Cambria), which was named after his daughter. The postmaster at Fredonia in 1839 was a Boyd T Ryburn (nicknamed "Bird"), born about 1813 in Tennessee, who was a captain with the Illinois volunteers in the 1832 Black Hawk War. Amongst the volunteers was a young Captain Abraham Lincoln. In 1843 an act was passed by the Illinois General Assembly permitting William and Boyd to build a mill dam across the Big Muddy River. Boyd was probably William T's son.
In the 1880 US census, the familly of David (farmer) and Margaret Ryburn, Plainfiled, Illinois, had connections to Stewarton, in Ayrshire, Scotland. David was born in 1821 to a John Ryburn and Agnes Stewart of Stewarton, and his wife Margaret Cochran also came from there. He arrived in New York in 1846 on the 'Agness', and in 1851 he actually returned to Scotland to marry Margaret. In 1880 his mother Agnes was with him in Plainfield at age 85. David had an older brother Thomas (carpenter), who in 1841 settled in La Sale Co., Illinois, a younger sister Elizabeth who lived in Joliet, and a younger brother Charles who fossicked for gold in Caliifornia and Victoria, Australia. One of David and Margaret's sons, John Stuart Ryburn, born in 1852, became a doctor in Ottawa, Illinois. The Ryburn-King Hospital there was built by his widow Cecelia Armour after his death in 1892.
Also in the 1880 US census in Winnebago County, Illinois, were famer James Ryburn of Burritt, wife Mary Flemming (or 'Fleeming') and 6 chilren, and blacksmith William Ryburn of Rockford, his wife Mary Legge, and 6 children. A 1904 biography claims William and Mary were orphans born in Aberdeenshire, Scotland, who came to America with relatives. However, we now know that William was born in Kintyre in 1835 to my relatives William Ryburn and Ann Mitchell, of East Drumlemble Farm, but he was orphaned about age 9. In 1850 William arrived in New York on the 'Sarah', and became a pupil at the 'Log School', Argyle, Illinois. The 'Argyle' settlement was founded by farmers from South Kintyre, Scotland. In 1883 William and his family moved to Hanson County, South Dakota. "Both were worthy members of the Presbyterian Church and were folk of sterling character, honored by all who knew them". Farmer James Ryburn was William's older brother, born in 1833. A 1910 biography says that James came to Illinois via Quebec in 1854. In 1860 he married Mary Flemming, born in Campbeltown in 1833. In 1877 he bought a plot in Willow Creek cemetery, near Argyle Village. His sister Jane Cameron also migrated to Illinois, to New Milford.

Not all American Ryburns were saints. In 1900, at Big Springs, West Nebraska, Agnew Ryburn (relative of Diana Powell) was a hotel owner and operator, as well as clerk of the election board. An election was held to determine the seat of County Deuel. Big Springs was declared the winner, but the votes cast greatly outnumbered the 500 voters, so the results were contested and Chappell won. Agnew 'cleverly evaded many questions'.

Like the New Zealand Ryburns, there have been a number of Presbyterian ministers amongst the US Ryburns. Roger Ryburn had a relative Horace Ryburn of Erwin, Tennessee, who was a missionary in Thailand. When the Japanese invaded in 1941 he was forced to flee via Burma, India, South Africa, Rhodesia, Congo, Brazil (via Pan Am flying boat), Tinidad, San Juan, and Miami. This took 12 weeks and several brushes with death. Shades of Indiana Jones! He served a further 35 years in Thailand after the war.

There is little doubt that other Ryburns made their way from Scotland and Ireland to North America, and that their stories will emerge in due course. A recent discovery was a John Ryburn living in Michigan in 1884, the grandson of John Ryburn the Kintyyre moonshine maker. Thousand of settlers migrated from Kintyre and Cork to the Americas.

Last Updated 9 July, 2016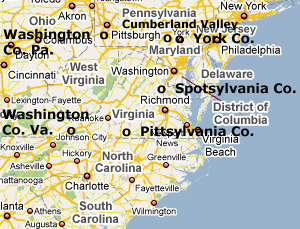 Ryburn Localities, East USA, courtesy Google Maps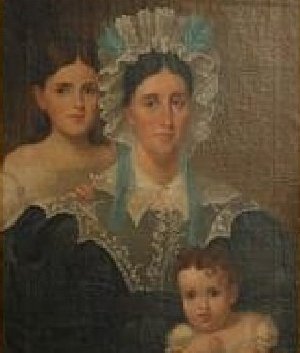 Eleanor Ryburn Nichol, ~1822, Nashville, TN. Eldest daughter of Mathew Ryburn, Washington Co., Virginia.
Image courtesy familyhistorycrw at Ancestry.com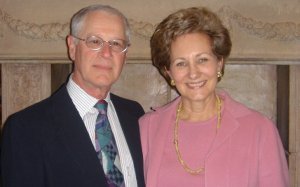 Nelson and Diana Powell, of Atherton, California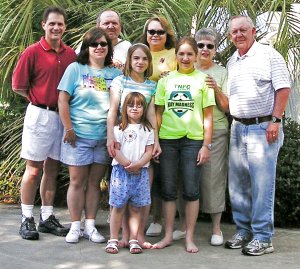 Roger and Loretta Ryburn, of Oak Ridge,
Tennessee, with all of their descendants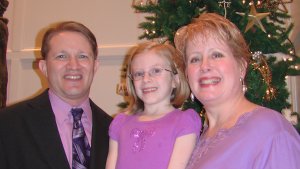 Eric and Paula Ryburn of Richmond, Texas,
with their daughter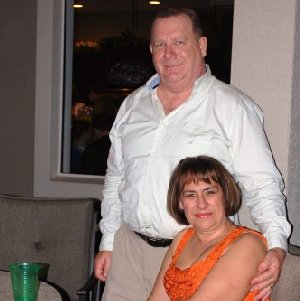 Donald and Inna Ryburn of Lakeland, Florida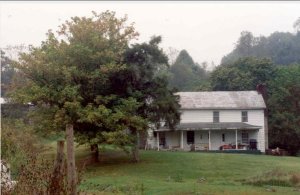 The old homestead of William Ryburn,
Washington Co. VA, built in the late 1700s.
Photo courtesy Diana Powell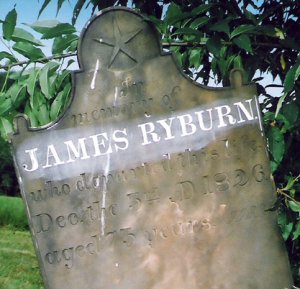 "In memory of JAMES RYBURN who departed this life
Dec. the 3rd, AD 1826, aged 73 years." Chartiers Crossroads Presbyterian Church,Washington Co.,
PA. Photo courtesy cu.theintelligencer.net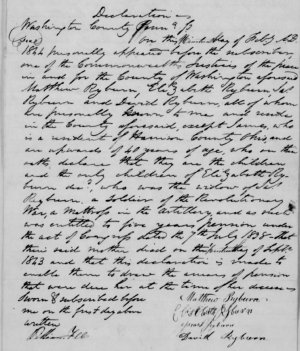 Application for Revolutionary War Pension wrt James Ryburn of Chartiers, PA. Signed by his children Mathew, Elizabeth, James and David. Image via Roger Ryburn.
Click to enlarge.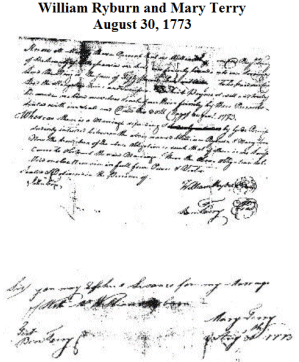 Marriage contract of William Ryburn
& Mary ("Polly") Terry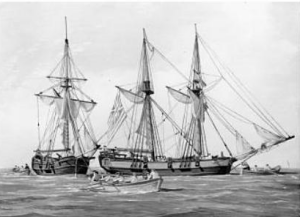 Sloop and Schooner, 1776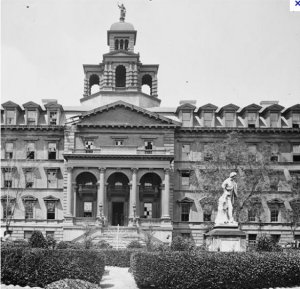 The Charleston Orphan House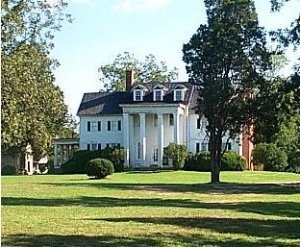 "Green's Folly", Halifax County, Virginia. Intially built
in 1804 by a James Ryburn for Col. Berryman Green, George Washington's quartermaster at Valley Forge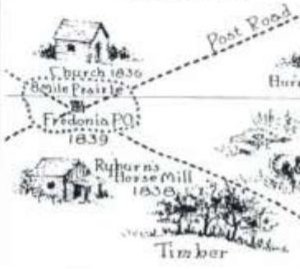 The Ryburns were never far from a Church,
in this case Methodist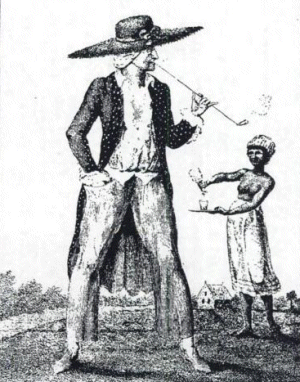 Slave Owner, West Indies